CRC 1342 Advent Calendar
8 December 2020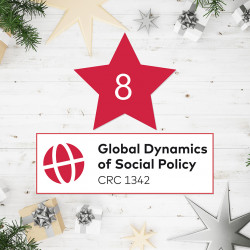 Workshop: Emotions and the Politics of Social Policy Reform - Why Macron's Pension Reform Failed (For Now)
The reform of the highly complex and expensive French pension system was one major point on Macron's agenda. Although the government not only entered negotiations with interest groups, but also consulted with citizens, the reform proposal was swept away by protests and strikes even bigger than those of the Yellow Vests movement. What is striking is that the government's approval rates plummeted even among those who would have benefited from the reform.
Johanna Kuhlmann (University of Bremen, CRC 1342) and Peter Starke (University of Southern Denmark) argue that emotional dynamics, especially the role of anger, can help explain the dynamics of Macron's failed pension reform. Although emotions in politics have gained some ground in political science recently, they so far have played next to no role in policy studies and comparative welfare state research: Kuhlmann and Starke state that emotions are conspicuously absent from the theoretical literature on social policy reforms. They believe that it is about time that scholars take emotional dynamics more seriously.
In their paper "Emotions and the Politics of Social Policy Reform: Why Macron's Pension Reform Failed (For Now)" Kuhlmann and Starke present a theoretical framework that allows them to analyse the role that anger plays within policy reform processes. They then apply this framework to the case of the French pension reform process.
Johann Kuhlmann and Peter Starke will present and discuss their paper at the Political Economy Workshop on 15 December 2020, at 2.30 pm. The workshop will be held online via Zoom. Guests are welcome to join. To receive the paper in advance, please subscribe to the Political Economy Workshop email newsletter or write an email to Bastian Becker and Hanna Lierse who are organising the workshop series.