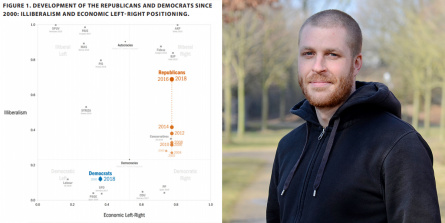 The dataset, to which Nils Düpont of CRC 1342 contributed, gathers information on political positions of parties since 1970, according to which ruling parties in democracies are becoming more illiberal, with the US Republicans among the leaders.
According to the "V-Party Illiberation Index", the Republican Party has since 2006 gradually abandoned the idea of upholding democratic norms. The illiberal swing in 2016 was so strong that the Republicans' campaign rhetoric has since been closer to that of the AKP in Turkey and Fidesz in Hungary than to the average ruling parties in democratic countries around the world.
Although the Republicans under Trump are an extreme example, it is representative of a trend: according to the V-Party Illiberation Index, the ruling parties in democracies worldwide have become more illiberal on average over the past decades. This means that they tend to feel less committed to pluralism, tend to demonise political opponents, ignore minority rights and even encourage political violence.
The dataset "Varieties of Party Identity and Organization Dataset (V-Party)" was compiled by the V-Dem Institute at the University of Gothenburg and comprises data on 1560 elections and 1955 political parties worldwide between 1970 and 2019. 665 international country experts have analyzed and coded the political positions of the parties over the entire period using 30 indicators.
The V-Dem Institute has summarized the most important results from the analysis of the V-Party dataset in a short report: V-Dem Institute Briefing Paper #9.
The entire dataset can be downloaded free of charge.
Information about the participation of Nils Düpont and the CRC 1342 in the production of the V-Party dataset can be found here.
Contact:
Dr. Nils Düpont
CRC 1342: Global Dynamics of Social Policy
Mary-Somerville-Straße 7
28359 Bremen
Phone: +49 421 218-57060
E-Mail:
duepont@uni-bremen.de