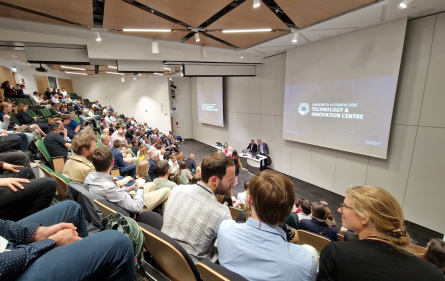 EPSA XIII 2023, Glasgow
Dr. Nils Düpont and Hannes Salzmann presented their paper "The Unforced Force of the Better Argument? Computationally Assessing Arguments in Parliamentary Debates" at the 13th annual conference of the European Political Science Association (EPSA) in June 2023. In cooperation with Gabriella Skitalinska and Prof. Henning Wachsmuth from the Institute of Artificial Intelligence, Leibniz University Hannover, the CRC members from the INF project are about to finish their work.
The article focuses on the analysis of parliamentary speeches in terms of the quantity and quality of arguments. Using a combination of manual annotations, machine learning, and pre-trained models, the authors hope to gain insight into how argument quality evolves over time and how it relates to other party factors such as government or opposition affiliation, ideological/policy positions, or status of the speaker.
The EPSA ranks among the largest political science conferences in Europe with about 1,900 participants in 2023. Within the panel "Qualities of Parliamentary Speech" the colleagues discussed the paper, which had been commented on by Prof. Kenneth Benoit from London School of Economics. Furthermore, Nils Düpont was chairman and moderator of the panel "Intra-Party Politics and Position-taking".
Beforehand, Hannes Salzmann could introduce their work at this year's COMPTEXT conference to a specialist peer group of 80 colleagues, also in Glasgow, in Mai 2023. The feedback received was helpful to further improve the article.
The engagement and exchange with colleagues on the latest methods and approaches in quantitative text analysis benefits not only the researchers but also the INF project. After the completion and publication of the paper, data on the average argument quality of government and opposition, for example, could also be added to WeSIS to provide further insight into the formation of social policy.
Contact:
Dr. Nils Düpont
CRC 1342: Global Dynamics of Social Policy
Mary-Somerville-Straße 7
28359 Bremen
Phone: +49 421 218-57060
E-Mail:
duepont@uni-bremen.de
Hannes Salzmann
CRC 1342: Global Dynamics of Social Policy
Mary-Somerville-Straße 7
28359 Bremen
Phone: +49 421 218-57061
E-Mail:
h.salzmann@uni-bremen.de