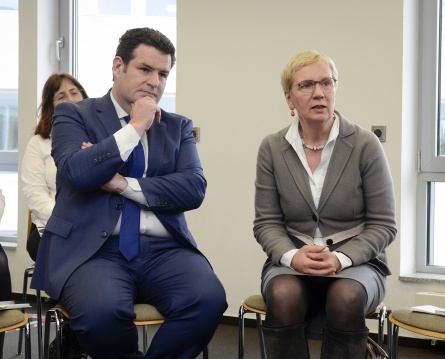 Hubertus Heil and Eva Quante-Brandt
Hubertus Heil was visiting SOCIUM and CRC 1342, where the Federal Minister discussed pension reform proposals and the future of social policy research.
Hubertus Heil, Federal Minister of Labour and Social Affairs, discussed with members of the Collaborative Research Centre "Global Dynamics of Social Policy" and of SOCIUM on Friday. Topics were pension and labour market policy reform projects as well as the situation of social policy research.
Low pensions and growing poverty among the elderly are a pressing problem that challenges the legitimacy of the public pension system altogether. Heil said that he was eagerly awaiting the recommendations of the Pension Commission, which are expected for March 2020. However, the government could not "not do any pension policy" until then. In connection with his latest pension reform proposal, the introduction of a so-called basic pension, Heil asked the social policy researchers present whether they considered a means test advisable. Frank Nullmeier, speaker of the SOCIUMS and board member of the SFB 1342, said that a means test was not advisable, the scientific community agreed on this point.
According to Nullmeier, the basic pension does not cover the growing group of precarious self-employed people, who, however, are particularly threatened by poverty in old age. Nullmeier introduced the idea of a "digital social insurance" in order to counter their poverty in old age: business premises of the digital economy, e.g. Internet hubs, could be subject to a levy linked to the data volume in order to generate employer-equivalent contributions to the public pension scheme for precarious self-employed persons (similar to the Künstlersozialversicherung). Heil then said that in many cases it was difficult to define who was self-employed, but the concept was interesting.
"As Minister of Labour and Social Affairs, I am dependent on social policy research beyond the time horizon of daily politics in order to identify and solve problems early on," said Hubertus Heil. With the funding network interdisciplinary social policy research (FIS), his ministry has taken an important first step towards promoting social policy research. Further projects are to follow. The Minister did not go into detail on this point. He simply said: "My dream is a DIW for social policy research". The German Institute for Economic Research (DIW) is one of the largest economic research institutes in Germany and is a non-profit association funded by the State of Berlin and the Federal Government. Additional means stem from third-party projects and donations.