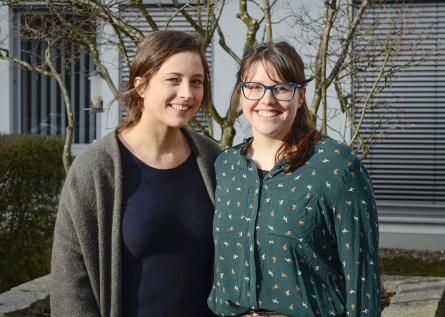 Kristin Noack and Greta-Marleen Storath
Kristin Noack and Greta-Marleen Storath, PhD students at CRC 1342, tell in an interview why their participation at the 10th NordWel Summer School in Helsinki 2018 was well worth it.
Greta-Marleen and Kristin, you were in Helsinki last year for the 10th NordWel Summer School. Can you recommend the Summer School to other PhD students?
Greta-Marleen Storath: Yes, definitely. The atmosphere in Helsinki was totally nice and open and very supportive. It was our first Summer School, two months after we started our doctoral theses. Everyone understood that we were still at the very beginning.
So the Nordwel Summer School is suitable both for PhD students who are just starting out and for those who are more advanced?
Great-Marleen Storath: Yes. The Summer School was designed to support all PhDs and create an open forum. I felt very comfortable.
Kristin Noack: I can underline that. What I also liked about the Summer School was the interdisciplinary approach. The lectures gave us input from very different areas. Afterwards we went home with new ideas.
At the NordWel Summer School, the participants present a paper, which is then discussed. You had just started your doctoral theses at that time - did you still present something?
Greta-Marleen Storath: The participants presented very diverse pieces of work: Some presented articles, some a part of their dissertation. We presented our first draft proposal.
When you think about it today, did the feedback on your proposals help?
Kristin Noack: Yes, absolutely. At the NordWel Summer School, the paper is commented on by a senior researcher and another doctoral student and then discussed in the larger group. The colleague who commented on my proposal came from a similar area and gave me very detailed feedback, picking out very specific things from the proposal. That was really good.
Greta-Marleen Storath: I am writing on Sweden, and there was also a Swedish researcher in Helsinki who gave me very good feedback. What I also found very helpful: During the Summer School you comment on a paper from a colleague. I found that just as instructive as presenting my own proposal.
And how was the atmosphere between you doctoral students - constructive or competitive?
Kristin Noack: Super supporting. Although we have received some criticism, it has always been constructive and encouraging.
Greta-Marleen Storath: Yes, I didn't feel any competition at all. In the evening we all had dinner together and sat together, there was a lot of support and appreciation for each other's work.
But this year you probably won't take part, will you?
Kristin Noack: This time we let others take the opportunity.
The 11th NordWel Summer Scholl will take pace in Bremen, 19-23 August 2019. Please find the Call for Papers here.
Contact:
Kristin Noack
CRC 1342: Global Dynamics of Social Policy
Mary-Somerville-Straße 7
28359 Bremen
Phone: +49 421 218-58604
E-Mail:
knoack@uni-bremen.de
Greta-Marleen Storath
CRC 1342: Global Dynamics of Social Policy
Mary-Somerville-Straße 7
28359 Bremen
Phone: +49 421 218-57068
E-Mail:
gm.storath@uni-bremen.de