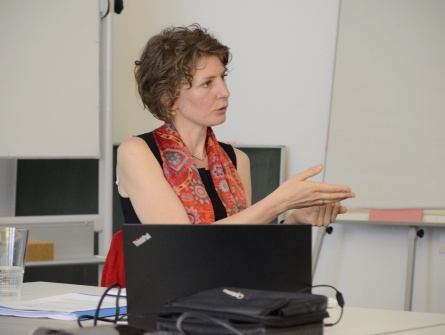 Dr. Camilla Addey
Camilla Addey from Columbia University raises this question in her research project "ILSA Inc.", which she recently presented at CRC 1342.
The results of international large-scale assessments (ILSA) such as PISA, IGLU or TIMMS have a significant influence on the education policies of the participating countries. According to the OECD, for example, a large majority of participating countries have indicated that PISA has influenced the design of curricula and that their policy-making is influenced by the strategies of high-performing countries.
"The data from these International Large Scale Assessments are generally considered accurate and reliable," said Camilla Addey, lecturer at Columbia University, New York. During a presentation of her research project "ILSA Inc." to members of the SFB 1342 at the University of Bremen last week, Addey said that most steps of ILSAs (including development, implementation and evaluation) had been outsourced to private companies. "We do not know what impact this significant involvement of the private sector has on large-scale assessments and ultimately on education policy," said Adey. "So far there has been no empirical research on this topic."
Addey wants to close this gap with her project. Addey collects qualitative and quantitative data through network ethnography, a mixture of network analysis, qualitative interviews, observations and much more. Addey's goal is to map the network of global ILSA actors and make the nature of their relationships transparent.
Addey is still in the early stages of data collection. However, she said that the network of companies and individuals involved in international large-scale assessments was relatively small and closed. During the presentation Addey did not want to reveal details from the first interviews she had conducted with employees of relevant international organisations. It would be too early for that. However, those interested could contact her directly.


Camilla Addey at a glance:
Camilla Addey is lecturer at Teachers College at Columbia University in New York. She is also co-directing the Laboratory of International Assessment Studies, an interdisciplinary network for experts in international large-scale assessments.