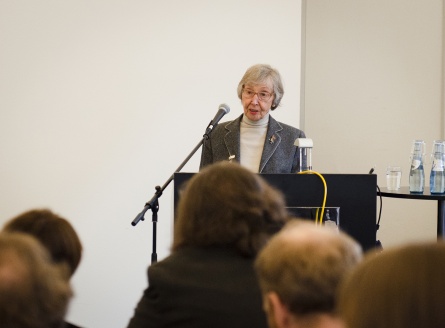 Prof. emer. Dr. Renate Mayntz
At a two-day conference, members of the CRC 1342 discussed with international colleagues how social policy phenomena can be explained using the concept of causal mechanisms.
Social science analyses based solely on the correlation of variables cannot fully explain complex social phenomena. The black box remains closed: It remains unclear how the result of a process actually comes about. Current approaches attempt to eliminate this deficit with "mechanism-based explanations". The aim of the conference organised by our CRC project B01 was to stimulate discussion on the characteristics of causal mechanisms and to establish a closer link between these concepts and the investigation of social policy developments.
The conference was attended by nearly 100 researchers, many of whom were significantly involved in the discussion on causal mechanisms. Keynote speeches were given by Renate Mayntz (Max Planck Institute for the Study of Societies), Gary Goertz (University of Notre Dame) and James Mahoney (Northwestern University). Armando Barrientos (University of Manchester and currently Mercator Fellow at the CRC) built the bridge to social policy research with a lecture on the development of social insurance in Latin America.
The various sessions presented theoretical and methodological contributions to causal mechanisms, as well as case studies in which social policy developments in a number of countries are analysed using causal mechanisms. Finally, the plenary session dealt with the question of whether a "toolbox" of causal mechanisms could be put together that could be used for the analysis of social phenomena. Johanna Kuhlmann and Frank Nullmeier (CRC 1342) focused their presentation on an actor-centred variant of causal mechanisms and approached the question of a toolbox by distinguishing between elementary and complex causal mechanisms. Peter Starke (University of Southern Denmark) discussed the question of a toolbox using the example of mechanisms from diffusion literature.