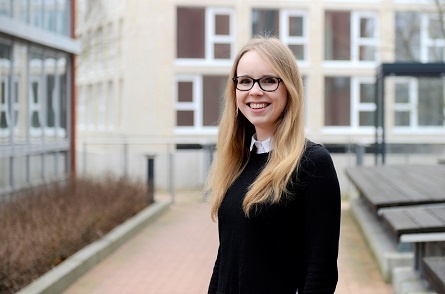 Svenja Gödecke
Svenja Gödecke explains how she is preparing for her doctoral thesis, why Europe is captivating her and what tasks she is taking on in subproject B04.

What would you have become if you hadn't become a scientist?
Good question - I have just graduated last summer. During the last semesters of my studies it became clear that I definitely wanted to work in science, especially as I was also very interested in teaching. Therefore, there was actually no alternative for me. With one small exception perhaps: In Brussels I did an internship with a German trade association. During the internship I was able to experience the EU "live" on site instead of just reading about procedures and actors. This was very interesting, but also a completely different world from the work at the university. I could have imagined working in this area for a while. But I'd have still worked on my PhD thesis in the meantime. No way I would have wanted to to lose touch with science.
You studied European Studies and later European Governance. Why this spatial specialisation?
I found the Bachelor European Studies interesting because it is interdisciplinary. I was able to satisfy my interest in politics and political science while learning different languages and gaining legal and economic insights. In addition, I find the development of European integration and the impact of the EU on its Member States particularly interesting. It is exciting to see how the merger of initially only six states has turned into an internationally unique entity like the EU - with competencies in almost all policy areas. This interest has continued to grow, which is why I enrolled in the Master's programme European Governance.
What will be your role within the CRC?
I am one of two PhD students with Prof. Schmidt and I will deal with the EU and Mercosur in Latin America. I am concerned with labour migration and look at what definitions and agreements do exist within the EU and Mercosur regarding labour migration, in order to explain later, for example, what repercussions these have on the nation states.
How will you conduct your research?
First of all I have to read intensively, because I have not yet dealt with Mercosur. Labour migration is also a relatively new field for me. Therefore I will mainly read, read, read in the near future. Then I can decide how to proceed. Although my work will most likely be qualitative: I will be doing interviews with experts, probably also travelling to Latin America and Brussels. But the details are not clear yet.
How long is your doctoral thesis scheduled for?
My contract runs for three years. The doctoral thesis will probably begin officially in the second half of this year. Until then I will work on the literature research.


Svenja Gödecke at a glance:
After graduating from high school in 2011, Svenja Gödecke studied European Studies and law at the University of Osnabrück. After graduating with a bachelor's degree, she earned a master's degree in European Governance. Her master thesis, which deals with the Europeanisation of sports policy, was awarded the Alumni-Förderpreis Sozialwissenschaften of the University of Osnabrück in March 2018.
Contact:
Svenja Gödecke