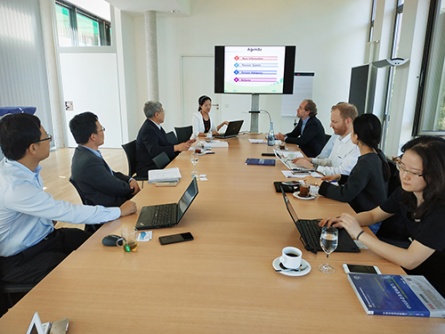 Meeting at the Jacobs University Bremen
Four scientists from the Centre for International Social Security Studies met with CRC 1342 members to exchange their views on pension reforms in China and Germany.
At the beginning of July a delegation from the Centre for International Social Security Studies (CISS) at the Chinese Academy of Social Sciences (CASS) came to visit the China Global Center at Jacobs University Bremen, and was warmly welcomed by the Dean of Jacobs University Bremen, Prof. Arvid Kappas. It was the first time Director Prof. Bingwen Zheng, General Secretary Prof. Lianquan Fang, associate Professor Chuanjun Qi and associate Professor Peng Guo visited Bremen.
During the meeting, Professor Tobias ten Brink delivered a presentation about the CRC 1342 project B05 "Dynamics of Chinese social policy. Interplay of national and international influences", which he and Professor Tao Liu at Duisburg-Essen University are directing. Tao Liu afterwards explained to the guests Germany's Riester pension reform in detail. Peng Guo presented an update on the dynamics and reforms of Chinese old-age insurance. Dr. Armin Müller, Dr. Fei Wang, research fellow Tong Tian and Yuxin Li of Duisburg-Essen University also attended the meeting.
Contact:
Prof. Dr. Tobias ten Brink
CRC 1342: Global Dynamics of Social Policy, Research IV and China Global Center
Campus Ring 1
28759 Bremen
Phone: +49 421 200-3382
E-Mail:
t.tenbrink@jacobs-university.de