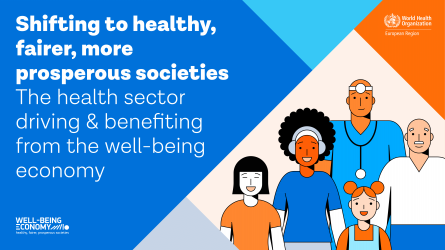 Dr. Lorraine Frisina-Doetter (SOCIUM and CRC 1342 member) served as rapporteur for the WHO/Europe at their first-ever "Health in the Well-Being Economy" Regional Forum on 1-2 March 2023 at UN City, Copenhagen, DK.
Building on the growing awareness of the importance of health to well-being economies, the Forum demonstrated how countries are already shifting investment, spending and resources.
The Forum also focused on actions needed to be taken going forward, as the European Region faces the interlinked challenges of climate change, the war in Ukraine, the COVID-19 pandemic and the cost-of-living crisis. These challenges are placing health, social care and welfare systems under strain, and widening health inequities across the Region.
The event gathered high-level representatives from ministries of health, finance and economy, together with government advisors working on recovery, resilience and sustainable development policies, public health policy-makers, and representatives of national and international banks, nongovernmental organizations, the United Nations and European Union agencies.
Key speakers included: Dr Hans Henri P. Kluge, WHO Regional Director for Europe; Katrin Jakobsdóttir, Prime Minister of Iceland; Professor Mario Monti, Former Prime Minister of Italy and European Commissioner; Professor Sir Michael Marmot, Director, Institute of Health Equity, University College London.
Contact:
Dr. Lorraine Frisina Doetter
CRC 1342: Global Dynamics of Social Policy
Mary-Somerville-Straße 3
28359 Bremen
Phone: +49 421 218-58561
E-Mail:
frisina@uni-bremen.de