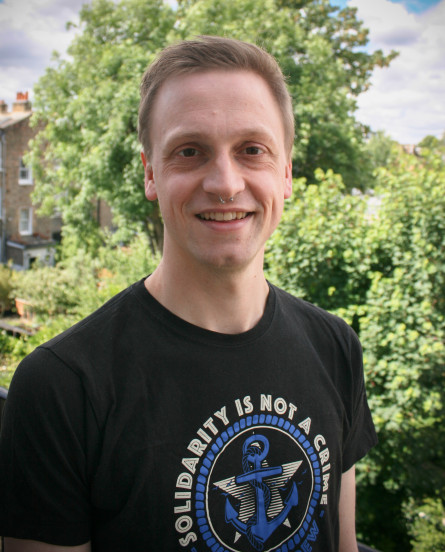 Heiner Salomon
Heiner is doing his PhD in project A02 and will mainly work on a case study on social security in Bangladesh. Previously, he has done research on poverty and social protection at ODI in London.
You didn't follow the classic path of starting your PhD directly after your studies, but you worked for many years as a "practitioner" instead. What did your journey look like in detail?
I had always considered the idea of doing my PhD at some point. However, my professors had recommended that I first gain work experience. So that's what I did. I started with an internship at the Gesellschaft für Internationale Zusammenarbeit (GIZ), then I worked as a consultant for GIZ and ODI in London. After that, I joined GIZ's trainee programme. This gave me the opportunity to witness GIZ's work abroad: I had a job in Bangladesh helping to set up an occupational health insurance scheme in the garment sector. I then spent three months at the World Bank and three months at the BMZ in Berlin. After that, I went back to Bangladesh, where I worked as a consultant for some time. Afterwards, I got a permanent position at Development Pathways in London working on social protection globally. I mainly conducted quantitative analyses on universal basic social protection in countries of the Global South. Most recently, I was a researcher at ODI working on poverty and social protection.
Did you have a regional focus at ODI, as you did at GIZ with South Asia?
No, the projects were spread all over the world. But I very much wanted to work in South Asia again. That's why the position at the CRC was so appealing, because there is a focus on Bangladesh in my project. I think it makes sense to work on developing an understanding of a country and a region when working in a global context. For expertise that is relevant regionally and politically, it is important to deepen one's knowledge of the social context, political structures as well as important historical events. This is particularly relevant in social policy: everything about social policy is highly political, because it involves questions of distribution and large sums of money. Therefore, I think a certain understanding of local political conditions is very important.
Why did you make the decision to return to university at this particular time?
At ODI, I could test whether I like working in science - which was the case. On the other hand, the pandemic certainly played its part in the decision: I had a lot of time to think and during the home office phase I noticed that it was less difficult for me than I had thought to work alone on a project for a long time. And since the PhD had been an option for some time, I came to the point: either do it now never.
Why did you decide to come to Bremen?
I wanted to write my PhD at an institute where there are many others working on similar topics, because I am keen to exchange with fellow researchers, because it is motivating and makes research more exciting. And you don't find that in many places in my field. Moreover, in Bremen, the conditions for PhD students in a position like mine are pretty good. In addition, there is the BIGSSS, which provides a certain structure and institutional exchange between PhD students and allows us to take courses. Above all, my position combines (almost) everything that interests me most - microeconomics, social security, Bangladesh. It really is a great combination.
Project A02 examines three social policy fields and also includes a case study. What will be the focus of your work?
My tasks are not yet set in stone, but it looks like I will prepare and conduct the case study in Bangladesh. Together with our colleagues in Bangladesh, we will first prepare the intervention: What exactly should it look like and how can we measure its impact? I will prepare and conduct the data collection and then analyse the data together with the team.
Beyond that, I guess time will tell. Employment injury insurance is another topic of the project, which I have also worked on in Bangladesh. When I was there, this was a new discussion among the international partners. Among others, GIZ had set up a project on this issue in Bangladesh.
Was that in the wake of the major accident at the Rana Plaza garment factory in 2013?
Exactly. Employment injury insurance is the first social protection programme to be introduced in many countries. They are quite easy to implement and also in the employers' interest. Moreover, the state does not have to invest much at all. This makes them the prototype of social protection programmes in many cases. Work accident insurance then serves as a vehicle to build other programmes on. Hence, this is also a very exciting issue.
Do you already have a topic in mind for your PhD thesis?
Yes, but I still have to adapt it a bit to make it fit into the project research. The basic idea is this: How are the preferences of the population in the Global South related to the introduction of new social policy programmes? There is a lot of discussion at the international level about how much targeting should take place in social policy, how universal programmes should be. Most of the time, the discussions are very theoretical. What is not taken into account enough - in my view - are the preferences of the people in the countries where the programmes have been or are to be introduced. For this purpose, I would like to use the World Value Survey, which includes two questions on redistribution.
After finishing your doctorate, will you work as a practitioner or will you stay in academia?
I don't know yet. Working as a practitioner - in terms of "policy making" in a ministry or in GIZ - probably not. But which specific organisation it will be is not that important to me anyway. I would rather see myself as a link between politics and science, because I am very interested in both fields and there is often friction between the two. There is a lack of people who are able to connect science and politics and vice versa. Whether I take on this role in science or in politics, that remains to be seen.