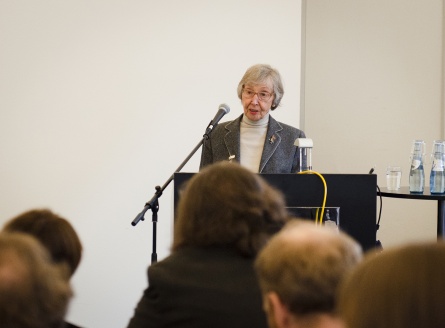 Prof. emer. Dr. Renate Mayntz
At a two-day conference, members of the CRC 1342 discussed with international colleagues how social policy phenomena can be explained using the concept of causal mechanisms.
Social science analyses based solely on the correlation of variables cannot fully explain complex social phenomena. The black box remains closed: It is unclear how the result of a process actually comes about. Current theoretical and methodological approaches attempt to eliminate this deficit with "mechanism-based explanations". The aim of the conference organized by our CRC project B01 was to stimulate the discussion on the characteristics of causal mechanisms and to establish a closer link between these concepts and the investigation of social policy dynamics.
Johanna Kuhlmann and Frank Nullmeier ( CRC 1342) focused on an actor-centred variant of causal mechanisms and presented a so-called "toolbox" of basic causal mechanisms: They distinguished between elementary and complex mechanisms. Elementary mechanisms are derived from social theory and are characterised by a perception-interpretation component and an action component. The six elementary mechanisms are calculatory orientation, norm orientation, normatively embedded calculatory orientation, reflective orientation, emotional orientation and comparative orientation. Complex causal mechanisms are composed of these elementary mechanisms. According to Kuhlmann and Nullmeier, the complex causal mechanisms are particularly suitable for analyzing the expansion and contraction of social policy.
Further theoretical and methodological contributions came from Gary Goertz (University of Notre Dame), Holger Straßheim (University of Bielefeld), Johannes Schmitt (German Development Cooperation Evaluation Institute), Sebastian Haunss (CRC 1342), Renate Mayntz (Max Planck Institute for the Study of Societies), James Mahoney (Northwestern University) and Peter Starke (University of Southern Denmark).
The second part of the conference consisted of lectures on case studies in which social policy developments in different countries were analysed using causal mechanisms. Two examples:
Tobias ten Brink, Armin Müller and Tao Liu (CRC 1342) examined social policy reforms in China (health and pension sytems and accident insurance) and identified three complex causal mechanisms to explain them: Policy experimentation, top-level intervention, and elite cooperation. These mechanisms can be transferred to other countries, especially to middle-income countries with non-liberal political systems.
Olivier Burtin (Ludwig-Maximilians-Universität München) interpreted the generous social program of the USA for war veterans as the result of several causal mechanisms:
The USA was involved in many wars
Veteran organization are established and influential political forces
Social benefits for veterans have a long tradition
The wars were fought almost exclusively outside the country, which hardly affected the civilian population, unlike the soldiers - this gap gives moral weight to the claims of the veterans
Until the middle of the 20th century, the US army consisted almost exclusively of white men, a group with great political weight
And, finally, politicians were reluctant to cut benefits for veterans so as not to jeopardize their chances of success in elections.

All this led to the fact that the social benefits for US war veterans, at 220 billion dollars per year, are very substantial, especially in comparison with social benefits for the civilian population.