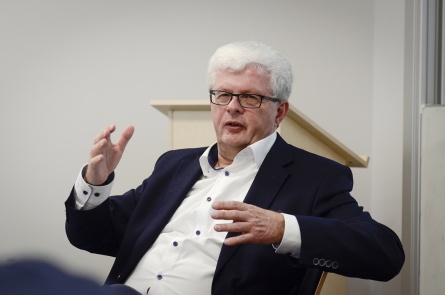 Michael Schmidt
The Chairman of the Personnel Council of the Federal Ministry of Labour and Social Affairs discussed with members of the CRC 1342 who is involved in the negotiation of such contracts and which factors are relevant.
Michael Schmidt first gave an overview of existing bilateral and multilateral social security agreements in Europe and Latin America. He then concentrated on bilateral pension insurance agreements that Germany has entered into or is trying to establish with other nations.
According to Schmidt, the closer the economic ties between the two countries are, the more likely it is that a bilateral social security agreement will be successfully reached. After all, avoiding double social security contributions is in the interests of both companies and employees working abroad. However, a high level of economic integration alone is not sufficient, as the examples of Russia and South Africa show: For years, Germany has been trying in vain to reach a social security agreement with Russia, Schmidt said (although he did not explain the reasons in more detail); such an agreement with South Africa seems to be almost impossible, since the social security system there is predominantly organised privately and is therefore hardly compatible with the German system. The more similar the social security systems of two states are, Schmidt said, the more likely it is that a joint social security agreement will be reached.
As a rule, international social security agreements are stable - Schmidt cannot remember any agreement that was ever terminated. The withdrawal of Great Britain from the European Union could be a first in this respect: "Should it come to a no-deal Brexit", Schmidt said, "the pension insurance claims of tens of thousands of Britons in Germany and tens of thousands of Germans in Great Britain would also be affected". There would then be no regulation for the recognition of claims acquired abroad.